How To Become A Working Model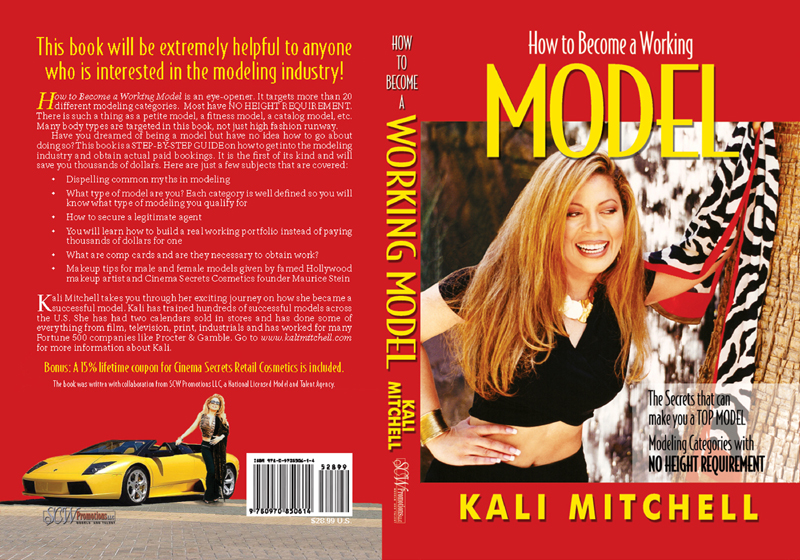 Across the country, thousands of hopefuls dream of a modeling career. All share the same goals, but say there's little information on how to get started - until now! HOW TO BECOME A WORKING MODEL dispels many modeling myths, such as height requirement. It is a modeling book that targets over 20 different types of modeling categories. Most

having NO HEIGHT REQUIREMENT.

Many body types are targeted not just high fashion runway. This book will answer your questions, AND WILL SAVE YOU THOUSANDS OF DOLLARS as it addresses issues like where you should invest your time and money without being scammed. It is

a STEP-BY-STEP GUIDE

to show

you

how to get into modeling and obtain

PAID

bookings. You must have this book if you are contemplating a career in modeling!

Order now via paypal (see below) or simply call in your order @ 480-656-8708.

Purchase How to Become a Working Model Now for only $28.99 Via Pay Pal (Free shipping for limited time only)

Clicking button does not commit to a purchase until form is filled out in Pay Pal.

BOOKS ARE AVAILABLE NOW and will be autographed by Kali Mitchell, just put your name in the "book signing request" box and she will write a personal note to you inside the front cover.
Order your autographed copy now.
Kali memorabilia are collector's items, her 02 calendar is selling for over $344.00 on Amazon.com as of Sept. 2013.
More about the modeling book-
Have you dreamed of being a model but have no idea how to go about doing so? You are not alone. We have interviewed thousands of people just like you and they all say the same thing "modeling has been a dream to me, but there is no information in the stores telling individuals how to get started". This book will clearly answer your questions and will be a big help to you. It will save you thousands of dollars! You will learn how to obtain paid bookings without spending thousands of dollars! Here are some of the topics that are covered in the book:
Many professional models use Maurice's makeup! His store in Burbank, California provides makeup and prosthetics to many Hollywood Studios. His career spans over 40 years with more than 4,000 commercials to his credit and over 200 film and television projects to his credit such as the "Star Trek" series, "Golden Girls", "Friday the 13th" and much more.
Bonus: A 15% lifetime coupon for Cinema Secrets' Retail Cosmetics is included.
About the Author:
Kali Mitchell has worked as a successful commercial print model for years. She has appeared in national magazines, television commercials and worked as a national spokesmodel for L'Oreal, Cover Girl, and Max Factor.
Kali is a national calendar model and aspiring actress as well. Kali has been seen on the following shows:
*Charmed (The W.B. network)
*The O.C. (Fox network)
*Angel (The W.B. Network)
*General Hospital (ABC Daytime)
Kali has worked as a petite runway model for companies like JC Penney. She has done print work for numerous magazines, newspapers and brochures. She has been seen in Mademoiselle Magazine, Seventeen, Shape Magazine, Southern Living and Texas Monthly. Kali has done various other modeling jobs for companies such as Cosmopolitan Magazine, Procter & Gamble, Microsoft, Gateway, Revlon, Sally Hansen, Coca Cola, Chevron, Fleer, Imax Canada, Tivo, Disney, Samsung, Mitsubishi, Intel and Buick - just to name a few.
This book was written with collaboration from SCW Promotions Model and Talent Agency LLC, a national agency.